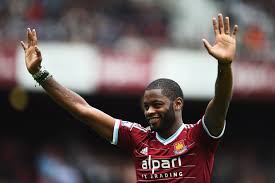 Alex Song was back to his best against Manchester City and picked up the man of the match award.
All the majestic poise and composure was in place as he showed the club he is ready to fight until the end of the season for the long term deal he is desperate to land.
But he was as concerned and pleased with another Iron's performance as his own and was fulsome in his praise for new boy Sam Byram.
He said: "Jenks was injured, but we have a young player who came in for his first game, it was brilliant." Song told West Ham TV.
"He shows he's not scared of anything. It was a very good start for him and I told him 'good luck, you have a very good future."
And on the performance generally he added: "We're doing very good things when we start and at the end of the game. Maybe sometimes we lose a bit, maybe one second, we lose concentration and they scored again, but sometimes this happens. We have to keep focused to look forward to the next step.
"But it's good as well that we didn't lose, we have to look forward, we have to produce the same performance when we play away like we did on Saturday."