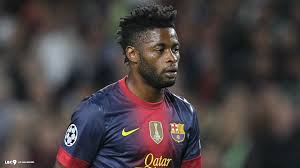 Alex Song has revealed he snubbed advances from Champions League club to join the Irons.
He is quoted in London24 via the club's official site as saying: "I'm very happy to be here and very happy to see the guys and the fans and to start to do my job for West Ham United."
He says he was attracted to the club because of their ambition and move to the Olympic Stadium.
He added: "I think this is very important for me to be coming back to London to West Ham United, which is a club with ambition to build a new stadium and become a big club.
"I am very excited to be part of this project For me, when I was in Spain, I always said that if I was to leave one day I would return to the Premier League.
"It was a very hard decision, because when you have options of a lot of clubs who are playing in the Champions League, but at the end of the day I chose West Ham because I wanted to come to the Premier League.
"This is a league which has given me a lot and I didn't finish what I wanted to achieve here.
"For my family too, it was very important, because my children and my wife wanted to come back to England. This is an opportunity to do that with West Ham and I just took it. I am very happy to be here and very proud to be part of the project at this club."
"We have to do better than last season. I think the club has very good ambition and I hope we can maybe catch the European positions, because that would be very good for the club.
"I want to be part of that and that's why I came here. The manager knows what he wants and I know what he wants and that's why I want to help the team. I want to be part of what the club wants to achieve this year.
"West Ham is looking to be a very, very big club in the future. The club has a great project and it is a very big project with very big ambition.
"I think it's great for the fans that the club wants to be one of the biggest in England. That's why I chose to come here."