Tomas Soucek is more than a little irritated with the team playing for only an hour or 70 minutes and insists it has to stop.
The last three games have seen us surrender a three goal to Arsenal and nearly the  same in the following two games.
It may be exciting but it's too much like the old days when we were perched on the edge of our seats for far too long.
Oh for a game when we can relax and cruise through 90 minutes with absolutely no threat to any lead we have established.
When Tomas talks you know it's coming from the best possible guy – a player who cares passionately about his team and himself.
Hopefully we will see the boys beat Newcastle and Chelsea with a degree of comfort – blood pressure levels are too important for what we've been through recently.
Commenting on the situation to West Ham TV he said: "It's true, the last two, three or even more games have been really tough for us physically and psychologically, because the last three games we were winning 3-0 and every game was very crazy in stoppage time!.
"In the first game against Arsenal we made a draw, but we were able to hold off the danger and win the last two 3-2, so it's great that we have another three points but we have to play for the full 90 minutes, not only 60 or 70 minutes.
"I think it's a mentality in our heads because last season when we fought relegation we played like this, for example [in the 3-2 home win] against Chelsea, when we stayed only in our box because we wanted to win too much.
"But it's dangerous. It's so much safer if we play with the same style [as we started the game], we press them high and we want to keep the ball. That's much safer, so we need to change our mentality to this way.
"The first 60 minutes was incredible. We were winning 3-0 and we could have had more goals and I don't remember them having a chance, so it was very good from us offensively and defensively. We need to carry on in this way for the whole 90 minutes."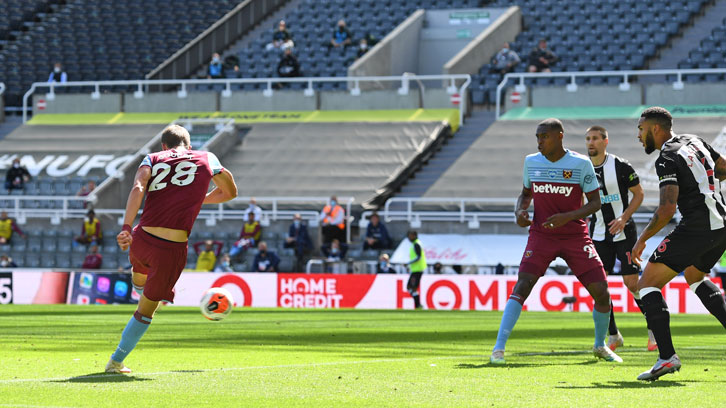 However, the Czech Footballer of the Year is confident that the Irons have the strength in depth to maintain their challenge near the top of the Premier League table.
"It's great because not only here on a matchday but every day at Rush Green it's the same – we have a very good spirit and we fight for each other every minute," he confirmed.
"When someone loses the ball, the second one wants to take it back, so our mentality is great and this way is good because we can look and see it in the table.
"We only need to carry on like this and we may have lost players to injury, but I trust our team that we have not only ten, eleven or 12 players, but more than 20 very good players and we are one team."
"It's true that we will go  there ( to Newcastle) confident because we won on Sunday and we are higher in the table again and we are going there for another fight.
"There are still many games to the end and we have to go to Newcastle and do as well as possible and I trust that we have the strength to beat them and stay as high as we want in the table."