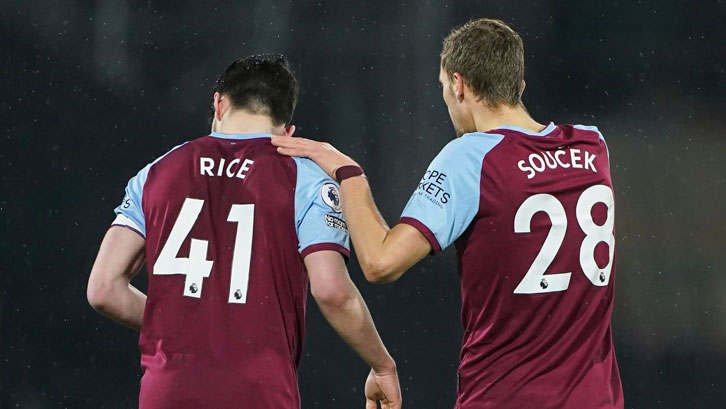 Marcelo Bielsa made a point of stressing the West Ham team's key strength was in the midfield where Declan Rice and Tomas Soucek have become of paramount importance to their way of playing.
To be honest that wasn't the most perceptive observation ever heard in the game but of course it was entirely accurate.
Dec and Tomas struck up a brilliant partnership almost from day one with both defending and attacking in a combination which will cause trouble to any defence.
And whilst Bielsa tries to find a way of coping with the duo on Monday night, the Czech midfielder has been explaining the balance between himself and the new skipper.
He told www.whufc.com: "It's great that together we've found a common way and our balance is very good because we could be similar players, but we can do both attack and defence together. It's not like one of us is more offensive and the other one is more defensive.
"It's a very good balance between each other and it's a big advantage for our team that both of us can cover the pitch and run everywhere. We can go box-to-box from the defence to the attack and one of us knows the other one will do it, so there's a great balance between us."
Souček can see similarities in the way Rice's career is developing to the way he came to the fore with former club Slavia Prague, where he broke into the first team at 20 and quickly established himself as an integral figure in his side's success before doing likewise at international level.
He said: "I know he's a really good leader on the pitch and in the changing room as well. He's a really good guy and everyone knows how hard he works and the other guys are inspired by him and what he can do for us.
"I am seeing him every day in training, so I know his quality and I think he will show us much more in the future because his qualities are incredible.
"For us and our team, he's really important."
On Monday evening, Souček and Rice's qualities will be needed again to slow Leeds United, whose approach under  Bielsa sees their players flood forward at every opportunity.
He explained: "I remember the game against Leeds when we beat them 2-1 and it was very hard but my partnership with Dec was great at Elland Road and I hope we show the same again on Monday.
"I know they run everywhere when they can, but I know we are also able to run well too, me and Dec, so I believe we will beat them with our qualities, not only by running but by keeping the ball as well."