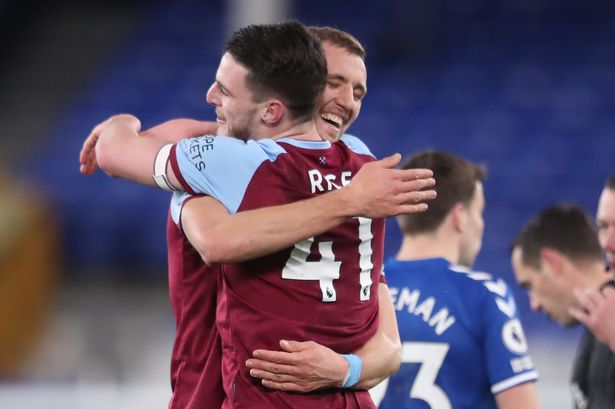 Tomas Soucek v Declan Rice looks to be one of those epic international moments for West Ham.
With the game between England and the Czech Republic set to command all the intention on the world tonight there's little doubt Irons fans will be suffering mixed emotions.
But the Czech midfielder has made it very clear in an interview with The Times that this is a game to be seriously enjoyed although he understands his passionate Irons fans will be wanting the Three Lions to win.
The pair have been quite amazing for the Hammers since they teamed up in our midfield and we will be fascinated to see who comes out on top tonight.
Maybe his experience and Champions Cup experience with his former club will give Tomas the edge but that isn't a scenario  to be taken for granted.
Declan will want to be right on top of his game which probably represents the most interesting yet for us irons.
Tomas commented ahead of the game: "It will feel strange being on the opposite side to West Ham United fans and them wanting me to lose. I've heard and read them saying, "We really love you and Vlad [Vladimir Coufal] but please don't beat England and please don't be injured."
I just smile, it is funny. We hope people support us. We hope it will be a fair game and show our quality. I understand they might suffer with England but hope after the game they will still love us, whatever the result.
England will be a big game for me, playing here. It will be really tough for us. It will be a little strange but I hope we do well. I look forward to playing in front of fans at Wembley and hope we can both go through.
I mentioned earlier this season that I would usually take three weeks off at Christmas and mainly eat potato salad. The guys found it funny and Declan tweeted, "How can you not love him? People now call us, 'Rice and Potato Salad'."
We have a close bond. It will be special to see Declan, my midfield partner. We might speak before and after the game and say something for motivation. During the game it will be like a fight between us.
We know each other's strengths and weaknesses and that will make it hard. I don't like this type of situation. But I want to concentrate on my performance for the team, rather than Declan. I came up against him before I joined West Ham in the qualifying campaign in October 2019.
I've reminded him that "Czech beat England 2-1 and I hope we can do it again". I never knew England's players and they never knew me then. Now I'm playing against them every week.
Declan is among the many English guys in training — including Stuart Pearce [the first-team coach], who is very competitive — and that is one of the motivations for me to take my West Ham form into the match.
David Moyes, our manager, said that he will support Scotland. I replied, "It's a bad choice because we will beat you". I will have a laugh with the manager soon.