Tomas Soucek'season may not have been as good as last year but that he has held his place alongside Declan and the club remains in the top six should hardly be disregarded.
We are now on the edge of a might possible semi final appearance in the Europa against Barcelona  so his own achievements cannot be devalued .
He wants to be part of a history making team and can clearly barely wait for the match in Lyon which, despite the loss of Zouma and Cresswell, is definitely winnable.
We took the lead with 10 men early in the second half of the first leg and as Pablo Fornals pointed out later: "What will be possible with 11."
Speaking to www.whufc.com the midfielder declared: "I am very excited because it's the quarter-final of the Europa League. Many guys didn't achieve this in their whole life, but we are here and it's a really big thing.
"We are one game from the semi-final and we can write history for West Ham, so it's great."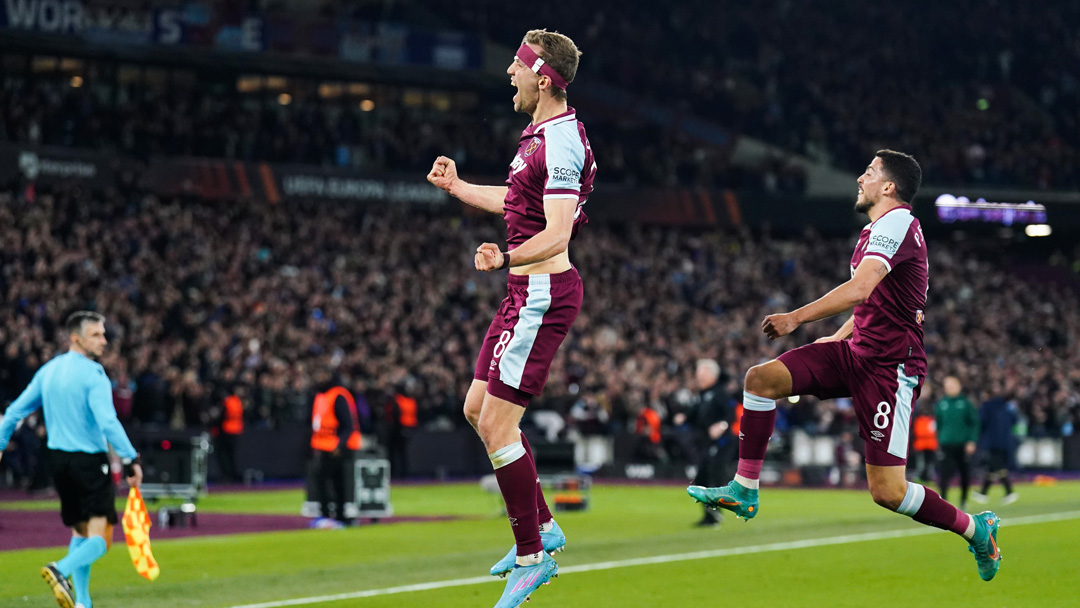 Souček and teammates Vladimír Coufal and Alex Král have been in a similar position fairly recently with former club Slavia Prague, whom they helped reach the Europa League quarter-finals in 2018/19.
On that occasion, Souček and Slavia went out 5-3 on aggregate in an epic tie against Chelsea, despite the midfielder scoring a fine goal at Stamford Bridge.
Souček  knows that, with the added decisive nature of a second leg and fond memories of that special night against Sevilla behind them, this West Ham team can achieve anything.
The No28 noted: "I just hope that we have a really big chance because of how we played against Lyon at home.
"We lost one man and still got a draw in the second half, so we have a really good chance, but we have to be confident and just mentally be ready for the game.
"I just hope that it will be similar to our second leg against Sevilla, because that was great. 
"Our quality, our mentality and our spirit were the best and we went through, so I hope that we will do it again against Lyon."