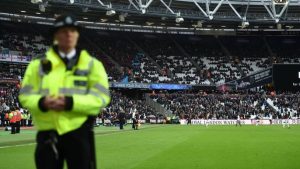 Stadium operator London Stadium 185 will pay around £60,000 this weekend providing extra security at the London Stadium for West Ham's home match against Southampton on Saturday.
As part of their twenty-five-year operator agreement with stadium owners E20 Stadium LLP these invoices will be passed on to the London Legacy Development Corporation (LLDC) who are funded by the London Mayor and ultimately the London taxpayer.
The £60,000 worth of extra security measures were a condition of the London Stadium Security Advisory Group (LS-SAG) led by Sheila Roberts from Newham Council.  It is Newham who are responsible for issuing the safety certificate and the license and without their approval, the game would have to be played behind closed doors.
Last December Newham council pulled out of stadium ownership company E20 Stadium LPP after investing £52m of Newham taxpayers money saying they could no longer sustain the continuing losses. The leak of £60,000 security figure to the BBC will be the latest stick the media beat West Ham up today as the crucial match approaches in 24 hours.