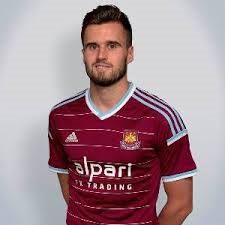 Gareth Southgate will be ultra careful with on loan Iron Carl Jenkinson for the England under 21 Championship play-off with Croatia.
Jenkinson  suffered no reaction to his injury during the 2-0 win over QPR and was cleared to join the England Under-21 squad this week.
Bur the under 21s head coach said: "Sunday was his first 90 minutes since he was out with a hamstring injury.
"Not only because of the recovery from the injury but also because of the first 90 minutes he had back means he's still recovering.
"It's one that we'll be quite careful with because I think on the back of an injury, having played his first 90 minutes, he would be unlikely to play two 90 minutes for us physically.
"So we have just got to assess it, really, but I am not putting him under any pressure. It is important he feels comfortable with everything and that he's ready to train.
"I would think he will do some sort of training [on Wednesday] but not fully with the team just yet."