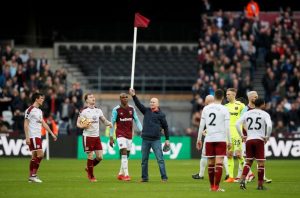 A supporters group called Hammers United has threatened to stage fresh protests if the club does not enter into dialogue with them.
The group founded by Paul Colbourne who received a life ban for planting a flag on the middle of the pitch at the London Stadium during the Burnley game last year claims his group members are pressuring him to protest.
In recent weeks Hammers United has written to the Premier League, UEFA and the Department for Digital, Culture, Media and Sport demanding access to independent supporters' groups.
They claim to have the full support of the Football Supporters Association (FSA) and two M.Ps who have also promised support.
Writing to members by email earlier this week Colbourne claimed the group are mandated by members to pursue three flagship policies of London Stadium stewarding, the distance of the seats from the London Stadium pitch and further spending on transfers.
The group continue to lobby the club and others for direct dialogue with the club outside of the Official Supporters' Board (OSB)
Colbourne wrote:"I believe that the fanbase has one last fight in it, one last chance to take our club back. If it comes to action we will need 20,000.No messing about, no failure.-So if it comes to that we must be ready, failure is not an option. And the time is not yet right.though depending on the club's reaction it may be fast approaching!"