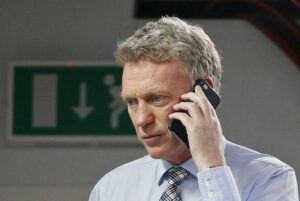 David Sullivan and David Moyes are reported to be split over a move for  Barcelona forward Memphis Depay.
The Daily Mail  has reported in its print edition [13 August, pg. 113] that David Moyes has made it clear  he wants the Irons to pursue other striker targets whilst the co chairman may br ready to push ahead with a possible deal.
Depay is believed to earn  over £200,000-a-week and we reported yesterday via a London Stadium source there was only a five per cent chance of the deal going through given the manager's reluctance.
Writing in his latest column for the Daily Mail, Matt Hughes shared the split in differences behind the scenes over a potential new move.
With Moyes reported to be keen on other targets another striker can be added to his hopes to bring in a central defender, midfielder and left back before deadline day.
He told reporters yesterday that he wouldn't put a figure on how many he wanted in despite knowing his requirements but it can be assumed from this that at least three are on his mind.