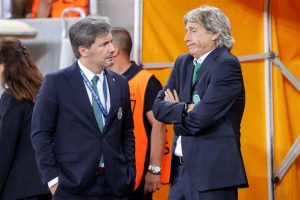 Portuguese website O Jogo claims that Sporting Lisbon never received a bid equalling or in excess of their valuation of William Carvalho – which seems in direct contradiction to comments made by Bruno de Carvalho and his communication director last week.
The report says the president of Sporting, Bruno de Carvalho, called William Carvalho following the collapse of the transfer to West Ham.
The President confirmed that Adrien Silva was leaving for Leicester and sought to motivate the midfielder by explaining the problems that had involved the long negotiation process between the two clubs leaving the door open for a future transfer for Carvalho in the next transfer window.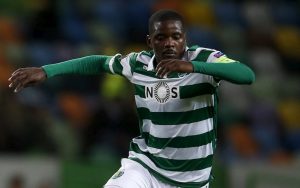 Without promises of an exit, Bruno de Carvalho told the Portuguese international that a bid did not arrive in his hands that reached the values desired by Sporting Lisbon, or something close to 45 million euros (a valuation corresponding to the exit clause that the player has in his employment contract with Sporting). Bruno de Carvalho recalled Adrien's case, pointing to him as an example to follow. The president appealed to the concentration and delivery of the midfielder during the current season, which will end with the World Cup in Russia, which Portugal are by no means certain to qualify for, stressing that, like Adrien, the next season may bring you the desired opportunity for your career.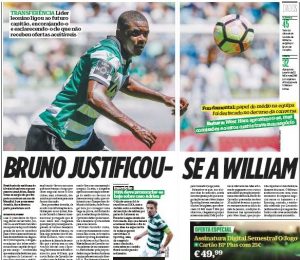 William Carvalho asked to leave Sporting, like Adrien. The report says there was still hope that the negotiations between West Ham and Sporting would be resumed in the dying days of the transfer window. The paper claim West Ham offered 32 million euros plus 5 million euros for goals and even proposed to add 5 million euro per bonus to the initial offer.
However, they say the form of payment and the costs associated with the transaction prevented the transfer. Bruno de Carvalho wanted to receive 20 million euros immediately and the remainder at the beginning of January, which were conditions different from those presented by West Ham, who proposed to settle the transfer over three years. Monaco still came on the scene, in a moment of negotiating impasse between the Hammers and Sporting, however, in the end they decided they had no need to buy another midfielder.