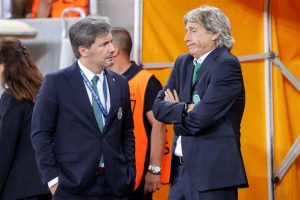 Sporting's president Bruno de Carvalho says he had not received a single concrete offer for their defensive midfielder William Carvalho.
Bruno de Carvalho made a statement to press at an event to state that Sporting  Lisbon received no formal proposal for William Carvalho. "There was no single proposal for William Carvalho, we did not refuse an offer or anything, there were approaches, but not proposals! Why did he play in the National Team? No one said he had a permanent injury"
Yesterday Sullivan said on WHUFC.com "It is no secret that we made a club record bid for Sporting Lisbon's William Carvalho but unfortunately that offer was rejected a couple of weeks ago. Late last night Sporting Lisbon made contact to accept the original offer, but unfortunately it was just too late in the day, and we simply did not have enough time to put the player through a medical. 
"We were not prepared, as a club, to buy a player for that amount of money without him having gone through adequate medical checks."