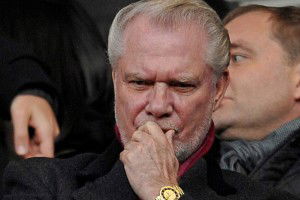 By Sean Whetstone
CandH associate editor
West Ham owner and co-Chairman snapped back to one fan on twitter this morning saying "I don't get shirty when fans question my judgement but I do get upset when they say that our club is a "joke" dg"
I agree with Gold, if anything its is the small minority of the fans who are the joke by continuing to harass and troll a 78 year man who helped save our beloved club from financial meltdown.
Some fans are never happy and continue moan about the manager, players, board and club in general no matter what is achieved on or off the pitch.
As far as I am aware David Gold is the only Premier League chairman to join and remain on twitter since 2011 and he continues to communicate with fans despite continuous and sometime vile abuse. You wouldn't catch Spurs chairman Daniel Levy communicating with fans or answering questions in the way our board does.
David Gold and David Sullivan single handedly saved our club from financial ruin after the Icelandic disaster and previous chairman in the form of Terry Brown and the Cairns family fared little better having their own disasters in the form of the Bond scheme and other allegations.
Yes, Gold and Sullivan have made mistakes by their own admission such as the appointment of Avram Grant but they are only human and despite claims they are only in it for the money I believe they do care passionately about the club we all love.
In reality there are far easier and less stressful ways in business to invest your life savings to make money and get better returns.
Fans should remember that before making personal attacks, I think the club and fans would be worst off if the fans succeed in driving David Gold off twitter altogether or maybe that is what they want!