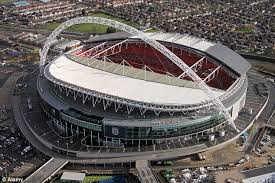 Spurs have officially confirmed they will not be opening the Wembley upper tier for the Carabao Cup, fourth round against West Ham on Wednesday 25 October.
The statement confirms the news that Claret and Hugh broke last week and it means West Ham are likely to be allocated an away allocation of 5,000 for the league cup game.
Planning permission granted in March by Brent Council allows Spurs to play twenty-seven matches at the full 90,000 capacity but after this football games are limited to use the lower and middle tiers at Wembley which have under 51,000 seats.
With 19 Premier League games at full capacity that leaves eight additional games at 90,000.  With Spurs in the Champions League, these will be reserved Champions League games and later cup rounds.
Wembley's lower tier holds 34,303 spectators with the middle titer holding a further 16,532 seats but the upper tier holding 39,165 will remain empty. This will mean a capacity of 50,835 of which 10% should be allocated to the away side in a League Cup game
Spurs have also confirmed the ticket prices which will be the same for West Ham fans.
Prices:
Level 1: £20 (Adults); £10 (Under-18s and 65+)
Level 2 (Club Wembley level): £25 (Adults); £10 (Under-18s and 65+) – ticket only.