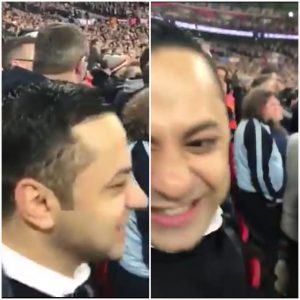 Two Spurs yobs involved in the throwing if a plastic pint glass of wee during Wembley cup clash have been banned for life by Spurs.
Lucas Louka and a fellow Tottenham supporter were filmed lobbing the urine at West Ham fans last Wednesday.
Spurs confirmed yesterday: "This kind of behaviour is not acceptable.We are issuing lifetime bans to both individuals in the video."
34-year-old Estate agent Lucas Louka who lives in Chingford, East London was filmed launching a plastic cup of liquid ­during Wednesday's match against West Ham. Louka was previously pictured invading the pitch at White Hart Lane and hugging players after Tottenham's 4-4 draw with Arsenal in October 2008 for which he received a caution. He now claims it was a prank and that the cup held cider.
Louka told The Sun: "We switched it to a cup of cider while we were filming and that's what I threw. It was just a bit of banter. It's a prank gone wrong. I've probably let the club down but I want people to know it's not what it seems."