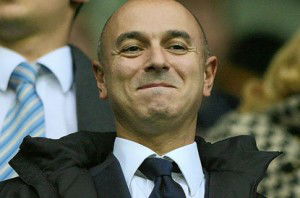 Spurs are reducing the wages of non-playing staff by 20 per cent.  Spurs' decision means that 550 employees will endure the cuts for the next two months and comes after Premier League club Newcastle furloughed their staff.
"The club's operations have effectively ceased, some of our fans will have lost their jobs and most will be worried about their future,"Spurs chairman Daniel Levy said.
"Our sponsors will be concerned about their businesses and our media partners have no certainty when we may play games again or whether we will be allowed to play in front of our fans. In the meantime, the club has an annual cost base running into hundreds of millions of pounds.
"We have seen some of the biggest clubs in the world such as Barcelona, Bayern Munich and Juventus take steps to reduce their costs.
"(On Monday), having already taken steps to reduce costs, we ourselves made the difficult decision – in order to protect jobs – to reduce the remuneration of all 550 non-playing directors and employees for April and May by 20% utilising, where appropriate, the Government's furlough scheme."
West Ham have taken the decision to pay their staff in full and not furlough staff for the time being with Claret and Hugh running the story yesterday at https://www.claretandhugh.info/west-ham-standby-their-own-staff/