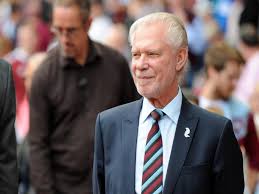 West Ham Chairman David Gold is speaking on a panel at the Leaders 15 event at Stamford Bridge today.
At The Sport Business Summit in London David Gold recalls his earliest memories bunking into Upton Park for free aged 7. 'Karren Brady actually wants me to pay for those tickets.' Gold told delegates.
Gold  speaking about Olympic Stadium move. Says he was initially against the switch like "80%" of fans.
'We won the bid to purchase it. The government had to reneige on the sale deal and pursue a lease deal.'
Gold blames Spurs & Leyton Orient for preventing West Ham buying the Olympic Stadium outright. 'Issues were raised by Spurs & Barry Hearn.'
Gold thinks more women will watch them play at the Olympic Stadium "as it's next door to a shopping centre"
Gold also said how great the Olympic stadium is now with retractable seats
David Gold believes the club's official twitter account will have 'a million' followers on Twitter in a year's time. He also says 'Way to become a millionaire is become a billionaire then own a football club – you quickly become a millionaire.'