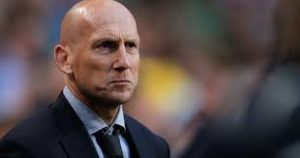 Reading boss Jaap Staam is the latest figure in the game to indicate that life on the West Ham training ground is not as intense as it is elsewhere
And his use of the word reminds us of Slaven's outburst after the horrifying Arsenal defeat when he accused the players of "lacking intensity."
Staam has made it as clear as he dare that loanee Reece Oxford has been absent from the Championship team  since his arrival perhaps for that reason in his latest presser.
Discussing the teenager he said: " Young players need intense training. Reece Oxford has been surprised at the level of intensity in training at Reading, compared to at West Ham.

Oxford, who made his debut against Preston on Saturday, is now ready to play according to the former Manchester United centre half who knows a thing or two about the position!

He added: "Young players need to improve. You need to be on top of them and give them good advice, so that's why training is intense."
It's not the first time West Ham's training ground methods have been discussed publicly with Enner Valencia explaining life was tougher at Everton.
And flop Simone Zaza – who in great fairness to him accepted he was 99 per cent responsible for his failue – commented that he needed his a kick up the ass which he didn't get indicating 40 minute sessions weren't enough.