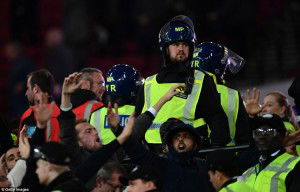 Operators London Stadium 185 and West Ham United will introduce a new independent appeal process for anyone facing a stadium ban. Anyone banned from the London Stadium this season has been the result of collaboration between the Stadium Safety Officer and West Ham's Chief Operating Officer. Once the evidence is collated a letter is sent out and the season ticket is revoked.
The current appeal process involves the Stadium Safety Officer who originally collated the evidence and issued the ban.
After an unprecedented number of stadium bans following trouble at the West Ham v Chelsea EFL Cup match the operators have agreed to publish a clear banning policy in the near future similar to one already published by Manchester United.
The independent appeal panel consisting of two safety officers not involved with London Stadium will sit after 21st November for the first time to consider appeals.
While the operators and club have promised to deal swiftly with any supporter who committed crime and disorder including anti-social behavior at West Ham home games they have agreed the banning process needs to be transparent and open to independent scrutiny to protect any supporter falsely accused.