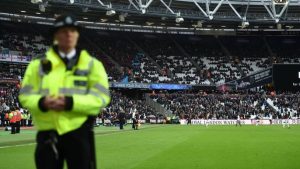 Official minutes from London Stadium owners E20 board in late January confirm that the public organisation was looking for ways to reduce cost on stewarding.
The papers released online as part of the London Mayor's transparency programme on the stadium say the company was legally obliged to provide a higher number of stewards even though supporters attending games didn't match tickets sold. In reality, real attendance at the London Stadium for West Ham league matches ranges from 47,000 to 52,000 per game despite 57,000 tickets sold for each League game. The official document also confirms that the French operators London Stadium 185 are working with a company called Event Sec to look at potential stewarding solutions and cost reductions.
The redacted minutes can be found at http://www.queenelizabetholympicpark.co.uk/-/media/lldc/transparency/180123-e20-board-minutes-redacted-version_redacted.ashx?la=en
Last week London Mayor Sadiq Khan rebuked Karren Brady for claiming that cuts in the London Stadium's security budget were responsible for the crowd trouble that marred West Ham.
Brady wrote to the mayor of London after an emergency meeting between stakeholders last Monday and said the head of safety and security at the stadium operator LS185, had blamed failings in security on the stadium's owner E20 pushing for cuts of more than 15% over the past six months.
Brady quoted the head of safety and security as saying that LS185 had secured the stadium as best it could "with the limited resources available".
The Mayor wrote back to Brady saying "there has been no requirement to reduce stewarding and security expenditure during the season" and that representatives of LS185 and Newham council have said that no budgetary issues were raised during the meeting.
"The chief executive officer of LS185, who was at the meeting, has confirmed to my officials that neither he nor my staff who were present used any of the words your letter attributes to them," said Khan