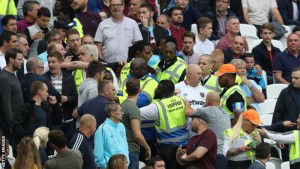 Stadium Operators, London Stadium 185 have released a statement following events on Saturday:
"London Stadium have identified a number of supporters involved in incidents of disorder during

Saturday's

Premier League match between West Ham United and Watford. Our stewards and response teams were called to address isolated instances of violent confrontation which resulted in ten supporters being ejected from the stadium and three handed to police.
"In line with our safety and security policies, these supporters will be banned from all stadium events. In addition, we will continue to review CCTV footage and take retrospective action where necessary. Any evidence of crime and disorder will be passed to the police.We remain determined to ensure that all supporters can enjoy the best possible matchday experience in a safe and secure environment. We will continue to work closely with West Ham United to identify and take action against the small number of supporters found to be responsible for these incidents."
The club have issued ten life bans to supporters in the opening weeks of the season after previous incidents in the opening games.
LS185 has admitted that the 'buffer zone' between rival fans must be enhanced but defended their decision not to have police within the stadium, stating that 'in-fighting amongst West Ham United supporters was not anticipated.'

London Stadium 185 (LS185) say that a further ten supporters were ejected from the stadium on Saturday and three were handed to the police. No fans were arrested. LS185 insist that stewards are expressly told not to film supporters and they intend to enhance the buffer zone and segregation between rival fans.