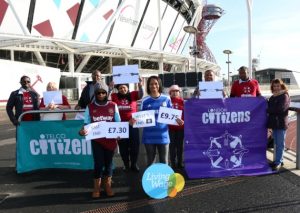 Gathering outside the London Stadium last week, campaigners from The East London Citizens Organisation (TELCO) delivered a letter calling on stadium owners, the London Legacy Development Corporation (LLDC) to pay all workers at the London Living Wage of £9.75 per hour.
The action follows discussions with security staff and caterers at the ground by charity Citizens UK which claims some sub-contracted staff are paid an hourly rate of just £7.50.
West Ham have have pointed out that pay rates are the responsibility of the LLDC, which owns the stadium along with Newham council.
Dr Tim Hall, a University of East London academic, said: "Either West Ham or the LLDC need to take responsibility and stop passing the buck. The reality is the East Londoners who work at the London Stadium are being paid a wage that doesn't meet the cost of living.That is unacceptable for any Premier League club – particularly on the Olympic site that should be leaving a Living Wage legacy."
A spokesman for West Ham said: "All permanent full-time and part-time staff employed by West Ham United are paid equivalent to the London Living Wage.West Ham United are proud to have been paying our employees at the level of the London Living Wage since 1 June 2015, and are immensely proud of the fact we were one of the first clubs to do so."
An LLDC spokesman added: "All permanently employed staff have always been paid at or above this rate. Some sub-contracted employees are paid below that level, but these contracts are already under review with the aim of ensuring all staff are paid the London living wage as soon as possible."
In January The Mayor of London wrote to the chairmen and owners of Arsenal, Tottenham Hotspur, West Ham and Crystal Palace, urging them to set an example for other businesses across the capital by paying their staff and subcontractors the London Living Wage. In the case of the London Stadium, the LLDC employs the subcontractors through E20 Stadium LLP which is ultimately funded by by county hall and therefore ironically the London Mayor is the person responsible.
ClaretandHugh wrote to London Mayor in January asking whether the LLDC would be paying sub contractors the London Living Wage. Last week we received a reply to say "The Mayor has asked me to respond and I am currently assembling the information you've requested. I will hopefully be in a position to reply to your email in more detail next week."