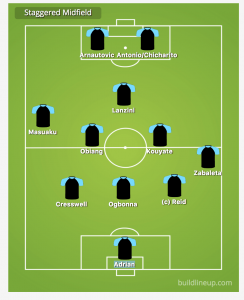 by Max Willow
Before we look at our next challenge at Bournemouth, a few words on our last game, merit mention. This may help us as we attempt to restore the cohesive football that was on show prior to the Newcastle game. In the vast majority of football games, a gifted early goal is viewed in very positive terms. Let's face it; not many goals come so quickly (6th minute), barely before the game has really begun.
Normally, the gaffer will instruct the team to go out, get the passing smooth and accurate, and try and instil the importance of clever running on and off the ball. The idea is to gain a small initiative, consolidate, and build on it; make the possession gained, quality-level. One could have got the impression that after Arnautovic's goal, there was little left to strive for at least it seemed so. It seemed that there was no-one out on the pitch to remind the players that the game had not 'really begun', and it was all there to be done, as if no goal was ever scored! There was very little sense in the way we were trying to approach proceedings-a 'mish-mash' of exchanged headers and a collection of disorganized erroneous passes. Let's hope that these elementary mistakes were picked up by David Moyes.
So it's a brand new outing, with opportunities galore to improve on our last performance. The restoration of Manu Lanzini as our central attacking playmaker should help, but will require the input of all the other players if we are to look for a convincing performance and a good win away from home.
I am advocating the continuing use of a 3-5-2 formation, with a few modifications from the norm.
Beginning with the midfield, I am suggesting that Masuaku is pressed high on the left flank, just short of an outright left wing position. By contrast, on the right side, Zabaleta should adopt a relatively deeper position, in order to reduce the amount of running he is required to do, and allow his work to be concentrated in a shorter channel of space. On the left, Masuaku can penetrate deep into the center of the Bournemouth defence with his mesmeric dribbling, or quickly distribute to Lanzini, running into space. By contrast, on the right side, Zabaleta need not waste his time pressing too high up the right flank (and vacating space behind him); a short wall-pass to Kouyate, would allow him to make a flat pass to a central placed Lanzini. Another option, could allow Kouyate to make a direct forward run, opening a diagonal space for Zabaleta to pass directly through to Lanzini.
 Lanzini will be expected to play a critical role in dictating the rhythm and momentum of West Ham's offensive play. He will have to adeptly organize his movements between the deeper midfielders and the two central strikers. Hopefully, strategies will have been worked out for him to collect passes from moves initiated by Obiang and/or Kouyate. These can be classified into two main pathways; the short diagonal direct pass or a two-man mechanism, which involves a longer direct pass to the strikers, who in turn passes diagonally back to Lanzini. Whichever of these mechanisms is utilized, it is important that Obiang and Kouyate are capable of forward movement to join Lanzini as a 3-man unit behind the strikers. Upon receipt of a pass to Lanzini, Obiang and Kouyate must then move laterally to attract defenders away from the center, allowing Lanzini more space and time in which to operate in. This should improve the accuracy of any forward passing from Lanzini to one of the strikers. Hopefully, the second central striker (Antonio or Chicharito) can move quickly to the right of the box, allowing Lanzini to occupy the vacant space created.
There has been some evidence that in the last week or two, Lanzini has been working on his medium-range shooting. Should Antonio/Chicharito move quickly to the right, it can provide Lanzini the chance to launch a strike from the right edge of the penalty area-exciting stuff! By assigning two central strikers from the beginning, with the presence of Lanzini in close proximity, the number of attacking options improves markedly compared to the use of a single lone-wolf striker.
I am suggesting that we try and concentrate possession in central midfield and down the midfield flanks. In order to facilitate a fairly constant flow of midfield possession, I would encourage the central back defenders move upfield to expedite close contact with the midfielders. In addition to assisting Obiang and Kouyate in central midfield, Cresswell,  and Reid, will have more opportunities to push vertical passes via channels bisecting Masuaku/Obiang (left side) and Kouyate/Zabaleta (right side). The central, center back (either Ogbonna or Cresswell)  will be able to form a unique central passing channel directly through to Lanzini.
The use of these and other tactics will hopefully increase the shots/goal ratio. However, as suggested above, the first third of the first half should be directed at obtaining 3 important objectives. Quick short passing and clever running can help achieve an early initiative. The next stage is a consolidation of the basics into slightly more complex configurations (such as moving triangles). The concept of constant running is a pre-requisite for opening up play and creating early goal-scoring opportunities. By scoring an early goal or two, the team should then push further for maintenance and dominance for the rest of the game. The second half should continue from the point at which it had left off, using additional tactics to hunt for a third or fourth goal.