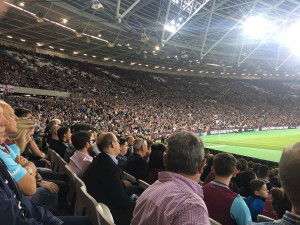 Ironically, the softening of the club's message on persistent standing had a bizarre reaction last night.
A statement from the Joint Chairman published yesterday which appeared to deliberately avoid using the word 'standing' and threats for persistent standers were absent. In a blog yesterday I called this a victory for common sense.
The new Bobby Moore lower stand has been a hot bed of persistent standing in the first five games at the London Stadium after season ticket holders from the old Bobby Moore Lower relocated there.
However, last night game against Accrington Stanley in the League Cup everyone unexpectedly sat down much to the amazement of many.
So have the club finally cracked the problem of standing with their softened down approach?  Well no, not really as many season tickets holders including myself gave the league cup game a miss.
It is was nothing to do with the troubles at the stadium as many season ticket holders have regularly given early rounds of the league cup a miss, even at the Boleyn ground.
Others joked after the first half performance there was nothing to stand up for.  Come Sunday, I am sure the Bobby Moore lower will be on their feet again but with 250 season ticket holders relocated to sit with 'like minded groups' hopefully the complaints about standing will soon be a thing of the past.