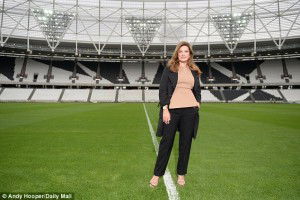 Sometimes you can only shake an entirely bemused head and ask "WHY?"
Last night many people including ourselves were calling for all the negativity to stop as we focus on giving the team and manager our 100 per cent backing in this rather important game against Swansea.
We continue to call for the same this morning so it was startling to read the comments from Karren Brady in her much vaunted column in – err The Sun.
Ahead of the Arsenal game she had decided it might be interesting to show the Irons punters the display of desserts available at the Emirates for those 'fortunate' (my quotation marks) to be among the high and mighty.
I think some of us were a little more interested in the 90 minutes but each to his or her own eh?
This morning it gets worse because after the board gave the manager total backing a move taken to taken solely to remove pressure from him Karren unfortunate choice of words piles it straight back on his shoulders.
Just look at this quote:  "I would be lying if I denied there is growing anxiety. We fully support Slaven and expect him to turn things around. But it's at moments like this we have to understand football, totally, is a results business."
In other words: "We hope and pray you get it sorted mate but if not expect the bullet."
Now none of us are naive be or stupid enough to believe that is not always the case in such circumstances but to say such a thing on the morning of this game in particular does absolutely nothing to help anything or anybody.
For me? UNBELIEVABLE!