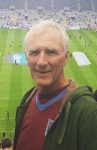 By Allen Cummings
There have been many strong words and opinions expressed over the last 12 hours following our defeat to Manchester City.
The runaway leaders of the Premier League and generally accepted as being the best ever footballing side to win the title. The consequences of the defeat, in our perilous position, probably more worrying than the actual defeat itself.
But a quick glance back through the history books reveal that yesterday's result was very much to form. It shouldn't really have come as any great surprise to us long-suffering supporters. Football has an uncanny habit of repeating itself. That was certainly the case with the City defeat. Even down to the score line.
The warning signs should have been flashing as soon as the 'on off' Player Awards were finally confirmed as being last Wednesday, 26th April. To the 'stats' geeks amongst us that meant only one thing. The following result was likely to be a virtual formality.
Two years ago, when we were all enjoying our best campaign for many a season under the influence of a certain Mr Payet, the Player Awards were held on the 3rd May 2016. Three days later on the 7th May we played Swansea City at home. A game on current form we should have won comfortably.
A win which would have pressed home what was at the time the very real prospect of us gaining a Champions League spot. But we blew it! Bombed spectacularly! Going down 4-1 in what was described as a "gutless performance". Probably our worst of the season.
Last season we faced Liverpool at home on the 14th May 2017, five days after the club's Player Awards. It turned out to be another game probably best forgotten. A comprehensive four goal hammering – this time without even the consolation of a single goal reply.
So yesterday's defeat was no shock at all really. Neither was the performance. It was very much par for the course based on previous years. Maybe we need to accept what was always likely to be the inevitable, and move on to what is coming up next. A game far more unpredictable.
The good news, if we care or want to look for it, is that the follow-up games to both those ignominious defeats in previous years ended in victories. In 2016 in our very next game we beat Manchester United 3-2. While last season we went to face Burnley at Turf Moor in our next game and won that one 2-1.  At least some reason for optimism!