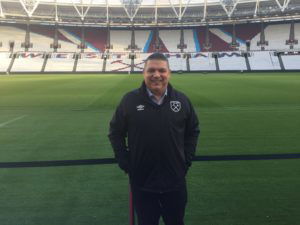 First things first – to all the followers of ClaretandHugh – two words – STAY SAFE!
In the present circumstance, I wish every single one of you and your families absolute freedom from Coronavirus.
Whatever our differences – and there have been many in the past of course you are tremendous supporters of this site and we are West Ham family.
We wish you our friendship, best wishes and support.
Sadly my colleague and close friend Sean Whetstone is currently in self-isolation after suffering viral symptoms earlier in the week and this came, as a result, he says of meeting an old friend at West Ham v Southampton.
They shook hands etc and two days ago was contacted by the person concerned and told he'd tested positive and as a result was letting all he had come into contact with that they too should take the necessary measure.
Sean was immediately advised to self-isolate as he had Coronavirus symptoms and is recovering well! But he remains there for another 7 days.
We could draw many conclusions as a result of that – notably the banning of football matches and other major events.
But that is for later. For now suffice to say: STAY SAFE and our very best wishes.