Jeff Stelling believes West Ham and Everton will draw this weekend.
The Hammers go into the Premier League game after a break in play necessitated by the death of Queen Elizabeth II.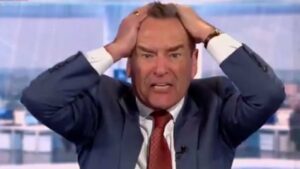 The entire league calendar was suspended last weekend, and the Irons will return to action on Thursday evening against Silkeborg.
The wait for football to return has naturally heightened hype around the fixture and the Hammers will be aiming to get back to winning ways domestically after their unjust defeat to Chelsea.
Everton haven't been in good form, either, and are currently 16th, having failed to win a single game this season.
Of their six games, they have drawn four, with Liverpool, Leeds, Brentford, and Nottingham Forest, and have lost to Chelsea and Aston Villa.
The Irons, by comparison, have only beaten Villa thus far and Stelling believes the two sides will cancel each other out at Goodison Park.
He predicts six fixtures a weekend as part of Sky's Super Six competition.
Stelling's Prediction: Everton 1-1 West Ham