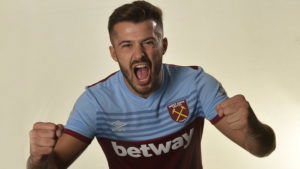 Albian Ajeti has already become one of those "whatever happened to?" West Ham players!
So it's a tad embarrassing to see the Switzerland striker – signed for £8 million by Manuel Pellegrini – being wished a happy Birthday" by the club on Twitter yesterday at perhaps the worst year of his career.
He's hardly likely to have enjoyed a situation where nether of two bosses have given him a real chance to show what he's about.
And it's also hardly surprising that the keyboard warriors were immediately out in force  with such comments such as "thanks for ruining my career."
dMoyes can hardly be blamed for the player's problems  and it's sad that Ajetic's brthday serves only to remind us all of the  long list of less than average and regularly injured players signed by the Chilean.
With such as  Roberto, Ajeti, Sanchez, Yarmolenko, Balbuena, Cardoso and Wilshere brought in, our current problems are sadly all too easy to understand.