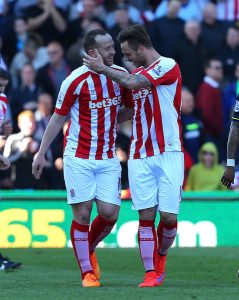 Stoke midfielder Charlie Adam has warned Marko Arnautovic he has to improve if he is to be accepted by West Ham fans.
"He will need to improve because he's going to be the record signing, and the West Ham fans, they won't take anything," he told Alan Brazil Sports Breakfast on Talksport radio.
"They won't take him not tracking back, covering the full-back, helping his own full-back – they will be on him so he'll have to improve."
"Maybe at our place he can get away with it a little bit because going forward he's a match winner and coming to a team like West Ham they need someone like that.
"He's got the talent to go play for one of the big ones but he's going to West Ham because sometimes going back the way he doesn't do as well as he should do."
"He was in yesterday saying his goodbyes and it's a shame because he's been excellent for us over the four years he's been there, he's been terrific on the pitch and off the pitch as well."