Jordan Hugill that he remains a West Ham first team striker in waiting!
The £8 million David Moyes signing – currently at Queens Park Rangers on loan – has made a reat start to the season and refuses to believe he's anything other than a Premier League player.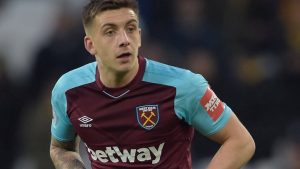 His situation at the Hammers is very well known and it may have been the signing that helped put paid to David Moyes'  reign at the club.
Hugill has failed o make any sort of impact at the club but equally has been given no chance to do so either by the man who signed him or his successor Manuel Pellegrini.
After a loan spell at Middlesbrough he returned to the club and has since scored six times in 11 games for the south west London Championship outfit.
And speaking to the Kilburn Times he declared: "It's one of them things where I can only improve on what I did last year so if I can improve on that this early then who knows where I can go.
I believe personally that I'm a Premier League player. For me now my focus is to get QPR in the Premier League. I'm sure they're [West Ham] keeping tabs and doing what they do but for me personally I'm just focused on what I'm doing here."
Given the Albian Ajeti scenario one wonders whether he may not have a point.