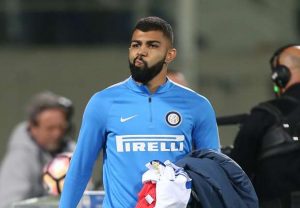 Brazilian 23 year old Gabriel Barbosa (Gabigol)  turned down a move to East London in January, his agent has revealed.
It was confirmed by representative Junior Pedroso  that the Hammers did in fact put an official bid in to try and sign the striker.
Gabigol was playing with Italian side Inter Milan at the time. He spent one year on loan at Flamengo in 2019, where he won both the Brazilian League and the Copa Libertadores, with 43 goals in 57 appearances.
Many clubs wanted Gabigol on a permanent deal after his outstanding performance while out on loan, he settled by signing a new permanent deal with Flamengo counting the Hammers out of the race.
Flamengo signed him for 16 million euros in January 2020.
"We had the possibility of several clubs who wanted to understand his situation. And each club… it was a complicated window in January in Europe, so it wasn't an interesting window for us to negotiate. Gabriel is in great form, obviously he drew the attention of many big clubs. And obviously he was also stuck in a vacancy, or budget issue, or position that the guy was going to leave and couldn't get another contract.
"But who really advanced were two teams in Germany and a team in England that made a proposal, which was West Ham. In Germany, Borussia Dortmund and Schalke wanted him. And in England there were more teams, we had flirted with Chelsea and some other clubs. Perhaps not all of them should be named.
"But for the project that was presented in January, Flamengo were the best project for him to take off in his career, maybe thinking about Europe in a second moment."
Despite the many clubs in the battle, the agent reiterated that the official offer came only from the Hammers.
"Official proposal came from West Ham. The others were conversations. Because the club only puts it on paper when they're sure they'll buy. West Ham were sure they were going to buy because the proposal was very interesting."
Asked if West Ham's offer had been bigger than Flamengo's, the agent has confirmed it: "Bigger for Gabriel. For Inter it was also bigger."
"He didn't think about it. He preferred to go to Flamengo."