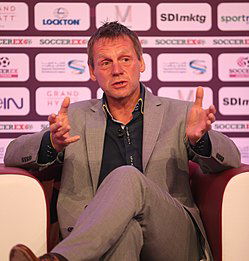 Stuart Pearce has tonight cooled speculation that he is on his way to the Irons as a first team coach.
Both he and Alan Irvine are being tipped to join David Moyes along with the present goalkeeping coach Chris Woods but Pearce has revealed the speculation is premature.
Speaking on talkSPORT the former Hammer made it clear that there had been no contact between himself and the club.
However, given that Moyes has yet to be appointed, it's unlikely  there would be communications between the Hammers and potential backroom staff anyway.
Pearce said: I've had no contact with West Ham but if they were to be in touch I'd certainly go and talk to them. I know David Moyes well enough. In fact he tried to sign me when he was manager at Preston North End."
Peare also paid tribute to the way Slaven Bilic had handled himself saying: He has, both now and however long this has been going on, West Ham means a great deal to him."