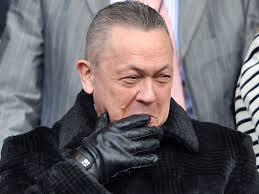 David Sullivan has revealed that West Brom's directors told him during the second half of yesterday's game that the Hammers were the best team they had played all season.
The co chairman was bitterly disappointed to be reflecting on a draw claiming we fully deserved the three points..
He told the official website: "Our performance overall was excellent – even West Brom's directors told me in the second half that we were the best side they have played all season.
It wasn't a great start to the afternoon, with the loss of Andy Carroll through injury beforehand and then conceding an early goal, but I was hugely impressed with the way both the players and the fans responded so positively.
The second half performance was dominant, against a very efficient and well-organised West Brom side, and the atmosphere was magnificent – there was a real sense of the fans spurring on the players.
Sofiane Feghouli showed great opportunism to follow-up the rebound from Manuel Lanzini's fantastic effort, and then when Manu fired in the second goal we again heard that fantastic roar around the stadium.
I thought Lanzini was excellent. Although it was a real team performance, his display had great impact and influence on the game and, along with Slaven and the other players, he didn't deserve to end up with anything less than a victory.
Although conceding a last-minute equaliser in that fashion can almost feel like a defeat at the time, we must not lose sight of the fact that it is another point on the board, and a run of six wins and a draw from our last 10 matches is genuine cause for optimism.
The players have shown on several occasions this season that they are capable of bouncing back when the going gets tough, and we have made enormous progress since the early part of the season."