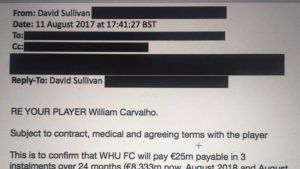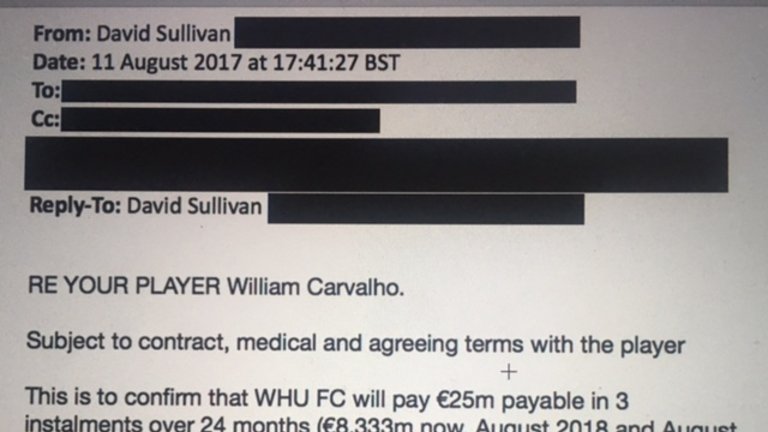 By Sean Whetstone and Hugh Southon
David Sullivan's emails have been published by Sky Sports in a continuing war of words between the co-owner and Sporting Lisbon.
But the emails still pose big questions and we come to the conclusion that David Sullivan would have been far better off remaining silent. There's no mileage in this at all for West Ham United.
We believe nothing positive can come of this and that the West Ham name is being done little good.
The questions posed are obvious:
– Who were the emails sent to and who was copied into them?
– Why are the name of the recipient of the email and c.c fields blacked out?
– Were they sent to an authorised individual within Sporting Lisbon or were they sent to the player's agent?
The emails show offers on 10th and 11th August which appear to be an opening low offer of £23m, why is there no proof of follow-up offers after that date? Is it because no formal offers were made after that date?
David Sullivan made the claim on the official club site "Late last night Sporting Lisbon made contact to accept the original offer, but unfortunately it was just too late in the day"
If that is true, where is the evidence of that communication and what format did it take?
West Ham have also claimed that the original bid was made at the eleventh hour on Deadline Day and if so hopefully the acceptance of THAT bid will be published.
The problem with releasing partial information to prove a point is it is a slippery slope and it's unlikely to put this subject to bed anytime soon.
Full transparency is required!