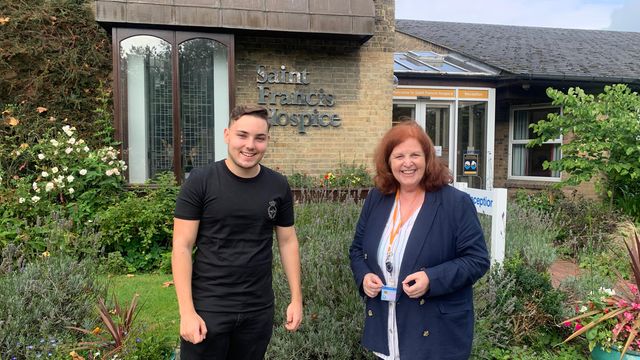 West Ham chairman's son Jack Sullivan has been appointed as an ambassador for Saint Francis Hospice following a successful stint with the West Ham women's team.
The former Hammers women managing director – who stepped down in mid-June after four years in post hopes it's the start of a long-term relationship with Saint Francis Hospice.
"I don't just want to be an ambassador on paper, I want to be an ambassador with purpose."
The 21-year-old believes this move will further strengthen relations between the hospice and the club, which is co-chaired by his father.
"The club has a fantastic relationship with the hospice already and with Sir Trevor Brooking being a patron, I think it is a perfect fit for one of our family of shareholders to be involved," said Jack.
On Monday Jack visited the charity in Havering-atte-Bower to get stuck into his new role.
Of his experience with the women's team, Jack said:"
In just 12 months the team went from semi-professional to professional and reached the women's FA Cup final at Wembley," explained Jack."The girls are real heroes and it's been a real privilege to help them via sponsorship and everything we could to make them the celebrities they deserve to be.
We built a club from the ground up. It was incredibly exciting and we were extremely lucky to be so well supported and to have great sponsors. The way I see it, I built the house and now it is time for someone to redecorate and to build an extension."
Jack says he will use his social media presence for good to promote the hospice.
He currently has 141,000 followers on Instagram, 64,572 followers on Facebook and 51,000 followers on Twitter.
He will use those same platforms to drive awareness for Saint Francis Hospice.
"The big thing was to raise awareness of the women's game and it was amazing to see our social media following grow," said Jack.
"Hopefully through my social media following and my network, I can help raise awareness of the hospice and encourage people to support the charity."
People can find out more or donate to the hospice by visiting
sfh.org.uk