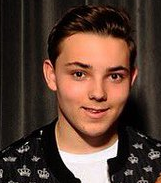 Earlier today ClaretandHugh associate editor Sean Whetstone blogged a defence of Jack Sullivan after ageing pundit Greme Souness chose to tell the teenager his use of social network to be unacceptable.
It was of course met with the usual mix of pro and anti comments with the usual whinge that ClaretandHugh is in the pay of the board along with some other unimaginative trolling.
Since Sean wrote his piece Jack himself has made his own position clear and  regardless of where some may believe our loyalties lie ( actually they don't) we feel that given the former Liverpool player has had his say, Sullivan jnr should be given similar air time.
Jack came to his own defence a little earlier: Here's what he has to say: