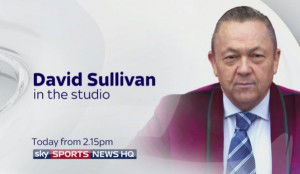 West Ham Chairman David Sullivan has told Sky Sports the club could be signing a loan striker within the next seven days.
The co-chairman covered the issue in a wide ranging interview after the club confirmed to ClaretandHugh they had inquired about Watford's £20 million rated striker Odion Ighalo.
We were told the Hornets were unready to sell at this time and in his interview Sullivan declared that he couldn't give the name of the striker he is currently tracking.
He said: "We can't comment, it's called tapping up and you get your knuckles wrapped very severely but we are looking long term for a 20 goals per season striker.
"There is a possibility that a striker could come in on loan in the next seven days with an option to buy him. He is an overseas striker. If I told you (the league) you wouldn't believe (it).
It's like when we signed Lanzini from, I didn't know what league he was in, but I call it Saudi Arabia. People said we are signing players from a very strange league but he has played in higher leagues.
This one may not happen it is just a possibility. If all of our strikers are fit we have probably got too many strikers anyway"
He explained how the club went about its business eplaining there are some friendly agents who have been very lucky for the Irons.
He said: "There is an agent called Will Salthouse who bought us Mr Cresswell, our backup goalkeeper and Mr Antonio.
"He has some very good players including the Tottenham striker who will not be coming to us by the way. He has brought us a striker and has been lucky for us. Some agents are very talented and very good people"