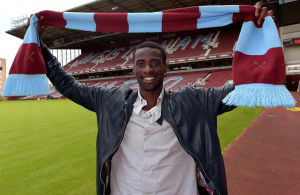 West Ham United Joint-Chairman David Sullivan believes the Club may have found a real superstar in the guise of 23 year old Pedro Obiang who signed a four year contract with the Hammers. West Ham are thought to have paid a fee of around £4.5m to Sampdoria for the Spanish midfielder.
Sullivan told the official website: "He is a top player. He is an athlete and played every game for Sampdoria last season. He is a box-to-box player who can operate in a number of positions."
"He has played for Spain's Under-21 side and you don't play for them unless you are a good player."
"He is a fantastic footballer and will keep possession of the ball and tackle. He has got many qualities that will be admired by the West Ham supporters."
"We hope that if we can improve him a little bit we could have a real superstar."
Joint Chairman David Gold added on twitter "I've just spoke to Pedro and he sounded v excited to be here. He promised me that he'd learn to sing Bubbles in less than a month! dg"
Gold came in for some stick on twitter by posting a photo of Angelo Ogbonna instead of Pedro Obiang while welcoming Obiang to the club.