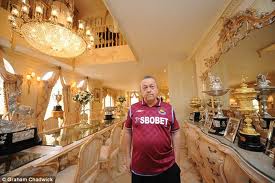 West Ham United co-chairman David Sullivan has revealed that running the club "consumes me," and that he thinks about it "morning, noon and night."
And he added: "If we lose I can't sleep. I had the most tiring summer I've ever had because I knew we had to get players in.
Speaking to the London Evening Standard he added: "We did some good early deals and that meant we locked in players and could be more selective at the back end but as it turned out, the best business might have been late on, with Diafra Sakho and Alex Song."
And despite all the problems with Andy Carroll he believes the striker could still be a good signing for the Irons.
He said: " What I would say now is that I would love him to come back fit and strong. The good thing is we don't have to rush him back.
"I think it could still turn out to be a good decision to sign Andy. We think he will make a huge contribution when he does return."
Ravel Morruison presents a different challenge with the co chairman saying:"The biggest disappointment is Ravel is such a talented individual.
"Thousands of kids would give anything to have his ability. Maybe the penny will drop eventually but his contract is up next summer. We all love him but we can't do it all for him. He has to do it himself.