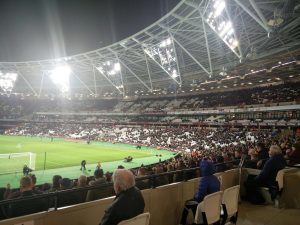 A planned meeting between David Sullivan and London Legacy Development Corporation (LLDC) Chairman Sir Peter Hendy later this Summer is unlikely to resolve the long-running issue over an increase in the London Stadium capacity.
West Ham's concessionaire agreement with stadium owners E20 Stadium LLP defines a minimum football capacity of 54,000 but there is no definition of a maximum football capacity.
The stadium has 66,000 seats already in place and West Ham believe they have the right to use all seats on a match day as the contract defines they have full use of all concession areas.
E20 owned by the LLDC disagree with this interpretation and say West Ham must pay more to cover the incremental costs of additional staff and facility costs relating to an increased capacity by either an additional 3,000 or 9,000 supporters.
The Hammers argue they have a fixed contract for 99 years and that the stadium owners would benefit from increase catering income and sponsorship deals relating to the increased footfall.
Last December Gerry Murphy, then acting chief executive of the LLDC, told a London Assembly budget monitoring sub-committee meeting: "There is a dispute about what the contract says in terms of capacity. We feel that if West Ham want more seats, they should commensurately pay more. It is subject to legal proceedings."
 Asked who would benefit from the money generated by additional seating, Murphy said: "West Ham's argument is they would receive all of the extra revenue. We would contend we should get a share of that."
A further 3,000 band 5 season tickets would generate just £693,600 per season excluding VAT.