If Sam Allardyce always  believes what he says, then he will have to agree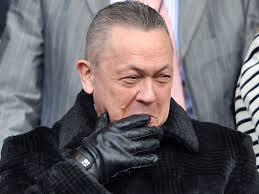 his time as West Ham manager is up.
But first he has a game of football against Tottenham Hotspur at Upton Park where the atmosphere is likely to be as intense as any he has ever endured during even his  time in the game.
His own words from 2009, when Gary Megson became a Bolton Wanderers casualty, having followed him into the club, hang Allardyce on his own petard.
For he made it crystal clear in an interview with the Guardian that "once the fans turn against a manager, his time is up at a club.'
Seemingly – and I use the word very sceptically – he retains the backing of the board via co-chairman David Gold who gave a lengthy interview singing his praises earlier this week on Ridge Radio reminding everybody of his achievements.
Of more significance, however, is the deafening silence from the club's chief shareholder David Sullivan.
For the bottom line is that this is the man who will ultimately deliver the decision on whether Sam stays or goes and he is saying absolutely nothing!
Former striker Tony Cottee told  ClaretandHugh during the week that he sees this game against Spurs as the most important of Allardyce's reign at the club.
And another source very close to the board added in an exclusive comment  a few minutes ago to the site: "It's difficult to see how he can survive if he gets well beaten today.
"Were the team to be beaten by two or three he may even decide to walk. Trust me, the situation is very uncertain despite some the pro-Sam stuff we have been hearing from DG."
From Spurs boss Tim Sherwood's point of view, this is a game of near equal importance as it is for Allardce but from the opposite point of view.
A win could perhaps see him hang onto his job as six points from the last two games would make life interesting from his contract point of view."
It couldn't be worse for Allardyce!  The crowd are on his back, he's on a shocking run of defeats and he's in front of every eye via TV – real pressure!
Another defeat and a hugely difficult match next week at Manchester City following a 77 per cent poll vote for him to be sacked via 1 12,000 vote poll makes life as difficult as it could be now and when talks start at the end of the season.
Can he survive?
I don't think so and should he do so the protests could be bigger than any the board has seen so far.
Follow on twitter @hughsouthon