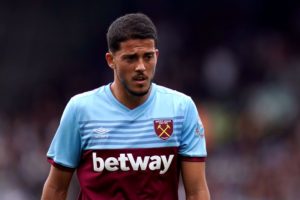 First and foremost let it be said, I trust Pellegrini!
It's too easy to knock and  to have reservations about his, and the judgement of other managers, when knowing nothing like the full picture .
Which brings us to mystery man Pablo Fornals who so far has an ineffective game at Brighton and one or two sub appearances behind him since arriving in the summer.
Ahead of that we had sight of him playing for Spain's under 21 when he appeared as sub on a couple of occasions as I recall and  scored a great goal which set us all on the road to believing we had a player and a half on our hands.
However, there was a lingering worry that he had appeared as a sub on as many or more occasions in that Euro under 21 tournament.
Whilst Seb Haller settled in so quickly – without any serious hint that he needed a period of readjustment – Fornals, for reasons known only to himself and the manager has thus far been 80 per cent uninvolved for going on for two months.
At around a £25 million fee one might have expected him to make an immediate impact. After all take a look at Issa Diop – the same age as the midfielder at 22 – who has been almost magnificent since day one.
Obviously, it has to be understood that it's different strokes for different folks and I am sure the moment will come when the guy blossoms into the player  Pellegrini and Husillos believe him to be.
After  all they have known all about him since his earliest days at Malaga.
That moment could well come on Sunday, given a lack lustre show from Yarmolenko, on Monday evening and should the player come to any kind of the form we have been told he can attain, undoubtedly will excite.
A top performance, with Michail Antonio on the sidelines for a while, could see the young man making an expected impact.
Interesting times.
COYI