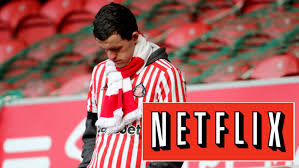 Over the Christmas holidays, I have been watching the Netflix documentary series called Sunderland Till I Die.
It is very hard not to feel synergy and empathy with the Sunderland supporters as the documentary charts their back to back relegations.
In the Summer of 2016 former West Ham manager Sam Allardyce left Sunderland to take his doomed England manager role, in came another soon to be former West Ham manager in the guise of David Moyes who sealed their fate to relegation from the Premier League.
The series charts the misfortunes of Sunderland including a billionaire owner in  Ellis Short who no longer wants to invest his money eventually selling up, and the passion of the working class supporters together with their pain and anguish as their club completely self destructs.
The programme also features former Hammer Ashley Fletcher who joins Sunderland on loan from Middlesborough.
The Black Cats fail abysmally in the Championship and end up relegated to League One.
The story could so easily be that of West Ham United a few years ago and our clubs and fan bases are more alike than different in reality.
A great but painful watch on Netflix which makes you grateful for our current mid-table position in the Premier League.