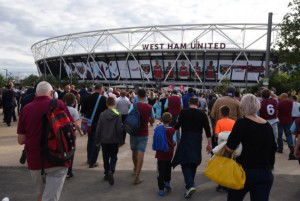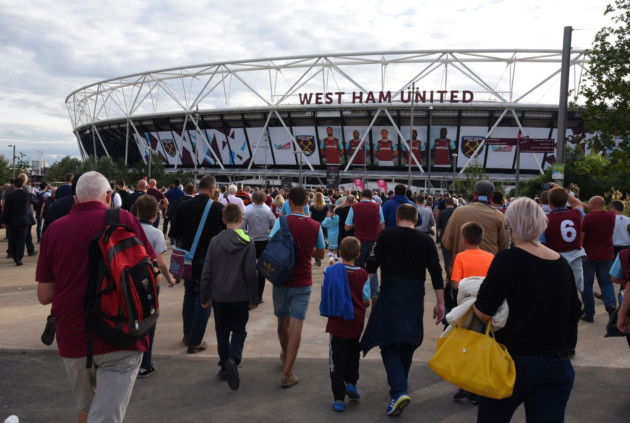 Much has been written about tonight's game against Chelsea in the EFL cup in terms of stewarding and policing as well as it being a potential tinderbox for trouble. Chelsea have issued advice to their 5,200 fans on their official website and ClaretandHugh have compiled eight bullet points of advice for the 40,000 plus West Ham supporters visiting the London Stadium tonight.
1) Turn up early: Both clubs and the police have advised that supporters need to turn up one hour before kick off. There will be large queues as all 45,000 fans have their bags searched and 100% are liable to enhanced body searches. If you turn up in the last 30 minutes expect to miss the kick off at 7.45pm.  The Stadium doors open at 6.15pm tonight and there are special offers available on draft beer and hot drinks for the first 30 minutes.
2) Be aware of prohibited items: This game is the most high profile of the stadium so far the list of prohibited items are likely to strictly enforced by stewards tonight. These items include Cans or Bottles, Glass vessels, Pointed-tip umbrellas, Poles thicker than a "pencil" (0.5cm), Sports balls, Beach balls, Cameras with external flash or interchangeable lenses,Flashlights, Frisbees, Laptops/Tablets (are not permitted in Stadium bowl), Large suitcases,Oversized bags or backpacks larger than 18″ x 14″ x 10, Signs/Flags/Banners larger than 11″ x 17″ and any affixed poles, Selfie sticks, Tripods/Monopods  and Unlicensed musical instruments: trumpets, drums and other devices capable of causing a disturbance or nuisance
3) Restrictions on alcohol sales: Police have asked local pubs to stop serving alcohol at 6.45pm. Mobile bars outside the stadium on the concrete apron will not be operation and all bottles sold within the ground will be decanted into plastics cups. No alcohol will sold within the stadium after the final whistle.
4)  Home supporter detour in place: Stadium operators and police have confirmed that a diversion will be place post match to allow the safe exit of away fans. A safety cordon will be in place either side of turnstile D so you may need to wait up to 30 minutes for the cordon to be lifted or walk around the outside of the stadium anti-clockwise or walk around the concourse inside the stadium anti-clockwise to find an exit away from the Chelsea fan release.
5) Avoid previous trouble spots: The majority of  previous incidents have taken place on the link road  route to Pudding Mill Lane and the Greenway. This is probably one game to avoid these areas if possible and take the longer route to Stratford station following the stop and go signs. Pudding Mill Lane DLR station is likley to suffer from overcrowding as well as being a potential flash point.
6) Avoid confrontation with away supporters:  We all love bit of banter with away fans but come win or lose this evening this is probably one to keep our mouths shut and our heads down when leaving the stadium. Last Saturday a group of West Ham supporters were goading Sunderland fans from the safety of the Greenway raised area while the away fans waited for their coaches down below. This resulted in an incident when an angry mob of Sunderland fans stormed up the hill to attack West Ham fans.
7) Smile you are on camera:  Whatever you do inside the stadium or the park tonight you are being recorded on one of the best high definition CCTV systems in the country. If you break the law, the ground regulations or act in an unsocial behaviour you will be caught eventually. You might not be arrested or ejected on the night but the police, stadium operators and the club will catch  with you and you will lose your season ticket, get a banning order and could end up with a criminal record.
8) Report trouble or anti-social behaviour: Although there has been no arrests inside the stadium since August when we moved in, 23 supporters have received banning orders for drinking in view of the pitch, violence and breaking segregation lines. If you witness any discrimination, trouble or anti-social behaviour you can report it in complete confidence by texting or calling the following number 07860-404069