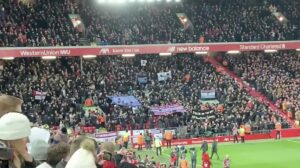 A West Ham supporter was arrested at Anfield on Monday night after he was allegedly assaulted by a heavy handed Liverpool steward.
The away supporter was celebrating West Ham's second goal against the Premier League leaders when he says he was punched in the face and then arrested for 'a breach of the peace'.
The supporter has since appealed on social media for witnesses to the incident earlier this and has requested Merseyside police and Liverpool FC investigate the incident. The away fan was ejected from the Anfield stadium after the incident and was released by police and has not been charged with any offence.
The police have told the supporter that stewards are allowed to use reasonable force in crowd disturbances.
If you witnessed this incident please get in touch and we will pass on your details to the supporter in question.
A video of his arrest can be seen below.