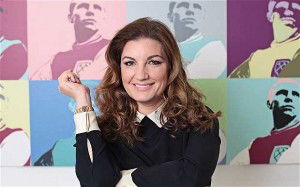 West Ham supporters agree the Premier League season should be declared null and void.
In a Claret and Hugh poll of over one thousand readers 61.5% agree that the season should be declared null and void with the remaining 38.5% disagreeing.
Outside commentators suggest that it is more to do with the Hammers precarious league position than a solution that suits all stakeholders.
West Ham Vice-Chairman Karren Brady came under heavy criticism yesterday after suggesting the football season should be declared null and void in her Sun column.
Those comments drew anger from journalists, Liverpool, Leeds and West Brom supporters all who thought the idea was nonsense and motivated by self-interest and was attention-seeking.
Whether Brady should have used her tabloid column to share her personal views on the subject remains to be seen. Many West Ham supporters believe her weekly newspaper column is a conflict of interest and she should give it up.
Full Results: Should the Premier League season be declared null and void?  Total Votes 1,083  Yes  666  (61.5%)  No 417 (38.5%)