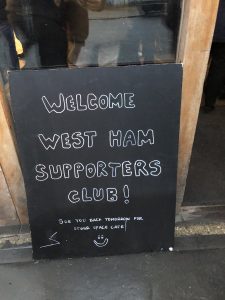 The Special General Meeting scheduled for this Sunday for the dissolution of the West Ham United Supporters Club has been postponed.
In the last hour, the committee has emailed members saying
"Due to the legality regarding memberships the SGM that was due to be held on

Sunday 25th March, 2018

at the Boleyn Pub at

12 noon

will be postponed. "
"The Committee has decided this by a majority vote that 
once validity is confirmed 
we will contact you further with an update and the  scheduled time, date and location of the SGM. 
We apologise to you all if this has caused any inconvenience. 
Kind regards 
The Committee"
The 70-year institution had faced a vote on dissolution in order to share out the assets including two flats in Green Street owned by the social club. Members with eight years or more members would receive an equal share of the money left after the club is wound up. Last year the loss-making Castle Street clubhouse was shut down on health and safety grounds. Stour Space continues to operate close to the London Stadium on match days with membership said to be around 700.
Today's announcement of a postponement is thought to relate whether new Stour Space members are valid members of the West Ham United Supporters' Club and whether they are eligible to vote in the Special General Meeting.