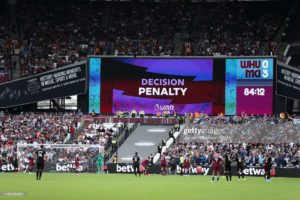 Over 66 per cent of 1,280 Claret and Hugh readers say the introduction of VAR to the Premier League is a good idea with the remaining 34 per cent against it.
One opponent of VAR  told CandH "Absolutely not. The flow and excitement of the game are more important to me than a couple of incorrect decisions. VAR will turn the game into American football where the game stops every 2 minutes and they all have a discussion. Boring!"
Another supporter who is favor of VAR added: "VAR is a good thing, essential for the big 'calls' that affect a result. But we need to adjust the 'wiggle room' refs use. The camera doesn't make the decisions; it just supplies the evidence and the ref has no latitude when the whole ground is watching the screen instead of waiting for MOTD."
It is still early days but appears the majority of supporters are prepared to give VAR the benefit of the doubt for now and see how it goes.