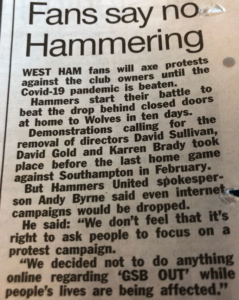 An article in today's printed version of the Sun newspaper says Hammers United will defer their protest campaign during the Pandemic.
The article read:  'West Ham fans will axe protests against the club owners until the COVID-19 pandemic is beaten. Hammers start their battle to beat the drop behind closed doors at home to Wolves in ten days. Demonstrations calling for the removal of directors David Sullivan, David Gold and Karren Brady took place before the last home game against Southampton in February. But Hammers United spokesman Andy Byrne said even internet campaigns would be dropped. He said "We don't feel that its right to ask people to focus on a protest campaign. We decided not to do anything online regarding 'GSB Out' while people's lives are being affected'
In response to the tabloid article Hammers United official Twitter account added:
"For clarification, Hammers United took the decision (some time ago) that asking people to focus on a protest against the board whilst lives were being lost to Covid 19 was NOT the right thing to do. GSB OUT remains our position and the protests WILL be back. The GSB out campaign is not going anywhere. The opinion of the fans will not charge and when the time is right we pick up from where we left off. We continue to engage with the club over supporter issues and we continue our other work in the background'
'GSB have burnt their bridges, although this is a respite, nothing has changed in that regard'  Hammers United continued.